Coronavirus Rapid Test Receives Marketing Approval
Mini-laboratory from the medical technology company Spindiag enables identification of the virus in about 40 minutes
Freiburg, Nov 16, 2020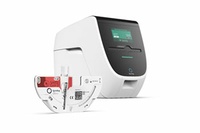 Spindiag GmbH, a medical technology company that grew from a collaboration between the University of Freiburg and the Hahn-Schickard-Gesellschaft für angewandte Forschung e.V. is launching a coronavirus rapid test: The system can identify the SARS-CoV-2 virus within roughly 40 minutes. The Federal State of Baden-Württemberg has provided six million euros to support development since April 2020.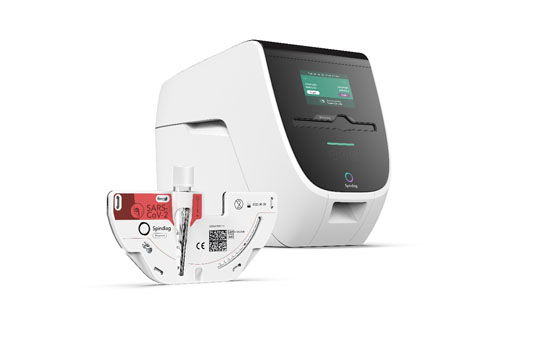 Mobile mini-laboratory: the test to identify the corona virus is now licensed as a medical product in the European Union. Photo: Spindiag GmbH
To identify coronavirus Spindiag has redesigned a test principle of its own conception which has already worked for antibiotic-resistant bugs. At the heart of this mobile mini-laboratory there is a roughly one centimeter thick, crescent-shaped cartridge, with an integrated swab. Nurses and caregivers use it to take smear tests, for instance from patients' noses or throats. Then they push the swab back into the cartridge and place it in an analytical instrument that automatically analyzes the swab and displays the test result. This makes it possible to conduct up to 60 tests a day with a mini-laboratory – right on the spot where samples are taken.
Spindiag's test process is PCR-based: Using PCR, polymerase chain reaction, the virus' genome is replicated sufficiently to be identified even if there are only small quantities in a sample. This is why PCR-based processes are regarded as the gold standard for infection diagnostics. In Spindiag's announcement it adds that its coronavirus rapid test will be introduced in Germany first of all and then in all other European Union countries. One of the first places where it will be applied is the Klinikum Stuttgart hospital. The mini-laboratory is not only suited to hospitals but also to medical practices that specialize in coronavirus, emergency departments and care homes.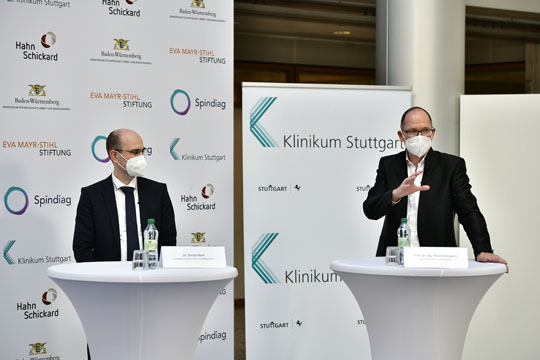 Spindiag CEO Dr. Daniel Mark and Roland Zengerle (left to right), Professor of Application Development at the University of Freiburg, demonstrate the coronavirus rapid test at Klinikum Stuttgart. Photo: Leif Piechowski
For seventeen years scientists at the University of Freiburg's Department of Microsystems Engineering have been researching the "Lab-on-a-Chip" concept, with the support of Hahn-Schickard. The objective of the team, which is headed by Prof. Dr. Roland Zengerle, is to convert ideas from basic research into industrial applications. Successful rollouts have taken place both through established companies and spin-offs: Zengerle's Chair of Application Development has given rise not only to Spindiag but also to the start-ups BioFluidix, cytena and Actome.
The Deutsche Physikalische Gesellschaft (DPG, German Physical Society) has already presented an award for the development and commercial utilization of the coronavirus rapid test in November 2020: the DPG Technology Transfer Award 2021 goes jointly to Spindiag, Hahn-Schickard, IMTEK and the Center for Technology Transfer (ZFT) of the University of Freiburg.
Nicolas Scherger
More information