So that's how it works!
Using the tagline "Knowledge. Amazement. Participation," around 60 exhibitors will reveal the secrets of science
Freiburg, Jul 11, 2017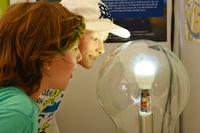 Photo: Patrick Seeger
The Freiburg science market is taking place on the Münsterplatz on July 14-15, 2017. Around 60 exhibitors from various fields at the University, the University Hospital Freiburg, other educational institutions from Freiburg, Furtwangen and Offenburg as well as companies and regional research-oriented institutions will offer many insights into science and research.

Photo: Patrick Seeger
They actually spend their entire day in labs, libraries and office buildings. But every two years they pitch their tents on the Münsterplatz and allow the public to participate in their fascination about research or, as they see it, to pose the most important questions in life. During the science market the researchers will present their work – the tagline is "Knowledge. Amazement. Participation": Visitors will see how, among other things, robot Immanuel makes moral decisions. They can participate in a simulation in which they can slip into the role as nerve cells or build the highest possible towers out of conductive and non-conductive building blocks in whose highest floor electricity flows to create light. They will learn about the diversity in the German and English languages, put together an immunology puzzle, test out various operation techniques using a dummy, discover more about the bark beetle, delve into virtual worlds with data glasses and see what happens during a car crash.
Onstage Q&A
The student-run editorial offices of uniCROSS located in the media center of the University library Freiburg will conduct interviews with experts on topics such as "Bees and Wild Bees," "Youth Language and Dialect", "Every day Mathematics," or "Debat-o-Meter" that enables people to analyze televised debates amongst politicians via smartphone or tablet. Live music from various genres will round out the stage event program. In addition, a ZMF city music drive will take place on Saturday, July 15 starting at 12:30pm on the courtyard in front of the city theater. They will also pass by the science market on their way through town.
The Freiburg science market is a collaboration between the University of Freiburg and the Freiburg Economy, Tourism and Exhibitions (FWTM) association and will take place this year for the fourth time on the Münsterplatz. The exhibitors' tents will be open on both event days from 10am to 6pm. The stage events will also take place during this time period. The program is open to the general public, including families with children. The event is free of admission. Pre-registration is not required.
www.wissenschaftsmarkt.uni-freiburg.de
The last science market took place in 2015 – here are the video highlights:
cae1976c7becae0b2c8354da6f1b9ea4