For the Body and the Mind
Student Health Management (SGM) has some tips for a more healthy and stress-free life
Freiburg, Mar 24, 2021
Your back hurts from studying for hours, nothing new is happening in the kitchen of your shared apartment, and the stress during the semester just won't end. Many students are struggling with physical and mental challenges. The Student Health Management (SGM) at the University of Freiburg has been providing advice and organizing workshops and seminars to create a healthy environment for students and to help them to achieve a healthy lifestyle since 2019. Their offerings are open to all students free of charge.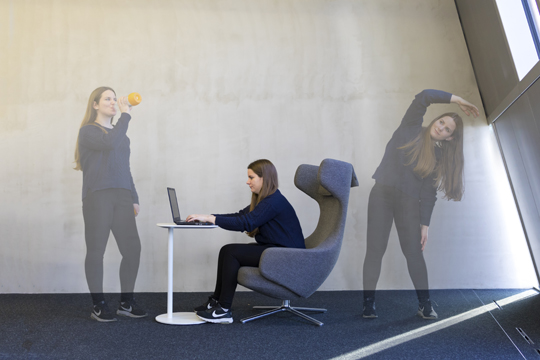 Keep moving: Students learn how to stay in shape, even when they have to study for long periods of time (editorial note: this picture was taken in the Library of the University of Freiburg before the coronavirus pandemic). Photo: Jürgen Gocke
Eat Fresh Food
How can you make a dinner for yourself and your roommates that is both healthy and affordable? Where can you find inspiration and recipes for new dishes? Students can take part in the live online nutrition workshop "Live-Online-Ernährungswerkstatt" to find out how they can eat a healthy and balanced diet without spending a lot of money. A list of all the necessary ingredients and kitchen utensils is provided before the workshop. The next live online nutrition workshop will be offered in the summer semester of 2021. "Me and my roommates took part in the nutrition workshop in our kitchen," says Max Steingrobe, a biology student from the University of Freiburg. "I especially liked that it was interactive and there was a big selection of dishes. Some recipes are now part of my regular diet. The workshop got me and my roommates excited about cooking again. We want to take more time to cook in the future," he says.
Stay Balanced
Many students feel like they have to face many different challenges in their studies. You can learn how to master this phase in your life and manage stressful situations in a flexible way, while staying relaxed and strong by finding inner balance in the seminar "Lebe Balance" (Balance Your Life). The course teaches students how to be more mindful of themselves and the world around them, and how to strengthen the protective factors for mental health. "Mindfulness and critically analyzing your thoughts really reverberated with me," says law student Eileen Saile, who took part in the workshop. "I'm sure I'll be able to use these protective factors to be calmer when dealing with challenging exam situations in the future," she says. The next seminar will be offered in the summer semester of 2021.
Rest and Relaxation
How can you find a healthy balance and improve your resistance to stress while juggling a busy schedule? In the course "Entspannungsmix" (Relaxation Mix), students can learn a variety of rest and relaxation techniques that they can use every day. The course includes progressive muscle relaxation, autogenic training, stress reduction through movement, relaxation through breathing, and mindfulness training. The course took place for the first time in January 2021 and will be offered again in the summer semester of 2021, depending on demand.
Time for an Active Break
Your neck hurts, your back is slouching and your attention is waning. Anyone who spends a long time sitting at a desk in the library or at home often suffers from physical complaints and concentration problems. Registered users of the University of Freiburg's media portal can access a series of videos on how to take active breaks. Sports students demonstrate simple exercises that you can use to activate and strengthen your body when you have to work for hours at your desk. Teachers can also play the short videos during breaks, so students can take an active break in the lecture hall or classroom, or at home.
Brain Fitness
Short exercises with a big impact are taught in the workshop "Brain Fitness – Fit in Körper und Geist" (Fit in Mind and Body). Through these exercises, you can learn how to combine different movements with each other and with cognitive tasks. Brain fitness helps you to improve your performance and concentration, while also encouraging creativity and stress reduction. Participants of this workshop learn how brain fitness works and how they can make these versatile exercises a part of their everyday routines. The course was held in January 2021 for the first time and will be offered again in the summer semester of 2021, depending on demand.
Certifiably Healthy
Resolutions to exercise more or to get enough sleep tend to fall by the wayside during exams. Students can now use the UniAktiv-Pass to document which nutritional and sports courses they've attended. A certain number of stamps can be earned for each course. When you reach 20 stamps, you can get a health certificate that can be used in job interviews, for example, to show how you're maintaining your health. Due to the campus closure, the UniAktiv-Pass was available only for a short time, and stamps could not be given out for the completion of courses, seminars, and workshops. As soon as the University of Freiburg resumes normal operations, students will be able to get their completed courses certified retroactively as far back as the summer semester of 2020.