Beats for All Occasions
Whether it's long train rides, housework, or wild parties, musicologist Knut Holtsträter has a selection of songs for special moments like these
Freiburg, Jun 19, 2020
Photo: Klaus Polkowski
The broadcasting station SWR recently donated 25,000 vinyl records to the Center for Popular Culture and Music (Zentrum für Populäre Kultur und Musik), or ZPKM, at the University of Freiburg. Because the records are not organized and there are no lists, the team at the ZPKM is sorting through and cataloging the entire collection. The musicologist Dr. Knut Holtsträter, who is in charge of sound storage media and audio playback devices at the ZPKM, gives us a sneak preview with a selection of six records for special moments.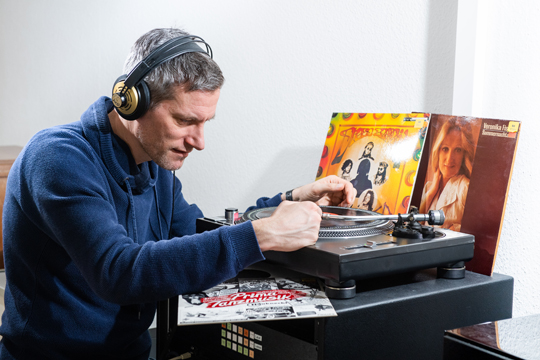 Laying down the beats: Knut Holtsträter is in charge of sound storage media and audio playback devices at the Center for Popular Culture and Music. Photo: Klaus Polkowski

A total of 15,000 LPs and maxi-singles, along with 10,000 singles, belong to this wonderfully chaotic music collection, which the ZPKM team is gradually organizing. "There are all styles of music in the spectrum," says Holtsträter, ranging from pop, rock, easy listening, all the way to jazz. He has found several story albums by Karlheinz Böhm, one record called "Ronald Reagan on the Radio," and a few containing only sounds and noises. He says, "Some of the records weren't made for sale," but were intended to be used in the studio. All of the records are in mint condition, and because there are no catalogs or lists, the expert has to sort through the collection himself. "There is a lot of obscure stuff here," he says. But for now, the collection can simply be enjoyed. Holtsträter has selected six records as soundtracks for certain occasions.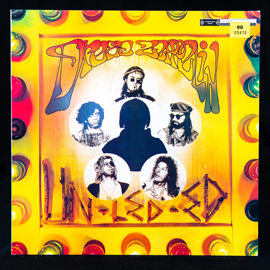 Danceable music to talk about at a party
"This has something for everyone: Elvis, Led Zeppelin, and reggae," says Holtsträter about the LP "Un-Led-Ed" (1990) by the band Dread Zeppelin from the US. "I find it very amusing." The LP was the debut album by the heavyweight Elvis Presley imitator Tortelvis, who had a very successful career with his cover band. "Real fans don't like the music, though. It doesn't really fit one particular style," which is exactly why it is the perfect conversation piece for jazzing up a dull party and getting people talking ("What's that playing? Hilarious!"). More importantly, the musicologist believes the Dread Zeppelins' "Un-Led-Ed" album fulfills a key function at parties: "You can really dance to the music." Photo: Klaus Polkowski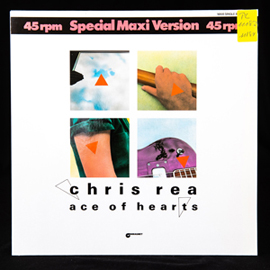 Driving beats and melodies full of longing to make train travel more enjoyable
Fast shuffles on the drums and percussion instruments are what make Chris Rea's Special Remix maxi-single of "Ace of Hearts" so perfect for long train rides. "The driving beat is like a train," says Holtsträter, who is 47 and a fan of the British singer, songwriter, and musician. "He plays these elegiac melodies and sings about love and longing," inviting us to let our thoughts wander while looking out the train car window. It would be so perfect for train rides if it weren't for the fact that "it's not really easy to play records in a train." Photo: Klaus Polkowski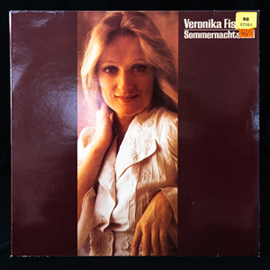 A feel-good ballad to make cleaning more fun
Veronika Fischer (no relation whatsoever to Helene Fischer) makes music that is "a mix between straight-up pop and schlager music," Holtsträter says, but adds: "The lyrics are very cheesy." Veronika, better known as Vroni, has long been one of the biggest stars in Eastern Germany, where she was born in 1951. As Holtsträter can testify, "She has an amazing voice." Vroni's album "Sommernachtsball" (1977) is the perfect music to listen to while cleaning, dusting, ironing, and doing other chores for many reasons. "The album is extremely well produced, and it makes you feel good. But you have to listen to it alone, because of the lyrics." Photo: Klaus Polkowski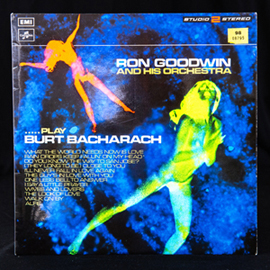 Music to sooth your nerves before meeting your future in-laws for the first time
"This is very soothing!" explains Holtsträter, pulling out the album "Ron Goodwin & His Orchestra Play Burt Bacharach" (1972). "This album blew me away. It features a large orchestra, a big band with string instruments, playing extremely well produced instrumental music. Every song is familiar." The American composer Burt Bacharach was born in 1928 and won several Oscars and Grammys for his music. The record includes international hits like "I Say A Little Prayer" and "Raindrops Keep Falling on My Head." Ron Goodwin (1925–2003), who was from England, also wrote many famous soundtracks for films, including several Disney movies and Albert Hitchcock's "Frenzy." He also wrote the theme song for the "Miss Marple" movies starring Margaret Rutherford. Photo: Klaus Polkowski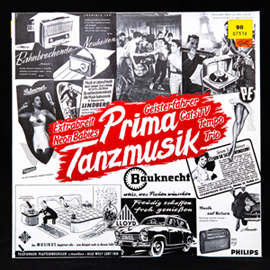 Music to pump you up and get everyone grooving
The record "Prima Tanzmusik" is special because it's a 10" single, instead of a 7" single or a 12" LP. As Holtsträter says, "It's a typical EP," because it has too many tracks to be a single and not enough to be a full-blown album. "This sampler has eleven tracks on it, but they're all short. All the songs are in German and lean toward wave and punk." The artists include New German Wave stars like Trio, who sing about "Polizisten," and Extrabreit. There are also lesser known acts like Tempo as well as Cats TV, with their song "Killer-Automat." "This will pump you up. Not everything is gold here, but there are a few killer tracks," he says, adding that it's the perfect music for a demonstration or a parade like Christopher Street Day. Photo: Klaus Polkowski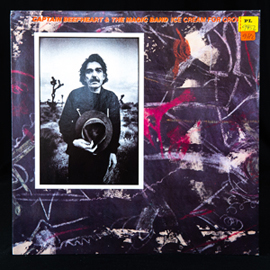 Too young to see Captain Beefheart live
"Captain Beefheart was a badass on the stage," says Holtsträter, who regrettably has only seen him on YouTube, because he was only 9 years old in 1982 when the Captain left music for good and turned to painting. "He made really weird rock music up to then: minimalistic, very abstract, and a little messed up," he says. "For example, sometimes the rhythm trips and stumbles, and the lyrics are often Dadaistic and fascinating." Holtsträter chose the artist's last album "Ice Cream for Crow" to be representative for his work, ruminating that he would have loved to see the Captain, who died in 2010, interact with his Magic Band live on stage. Captain Beefheart was not only a singer and composer; he could also play multiple instruments. "As chaotic as this setup sounds," Holtsträter says, "Captain Beefheart was definitely in control." Photo: Klaus Polkowski

The information the ZKPM team is collecting about the SWR records will be gradually integrated into its archive system, where the collection will stay intact. "I'm sure I'll be using some of the records in my classes soon," Holtsträter says. Otherwise, there are no specific research plans for the collection at the moment. "My current project is about shellac records from the GDR," he says. Unfortunately, the SWR collection, despite its broad range, is not much help in that department.
Jürgen Schickinger
Center for Popular Culture and Music