Knowledge at a Fair Price
Researchers and students ensured access to information by contract recently concluded with major academic publisher
Freiburg, Jan 18, 2019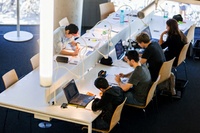 German academic and research institutions have achieved a major breakthrough to ensure freer flows of information for research. For the first time, they have concluded a comprehensive, nationwide accord with an academic publisher, Wiley. "We were able to implement all the significant, fundamental negotiating points in our talks with Wiley," says Freiburg University Library (UB) Executive Director, Dr. Antje Kellersohn, who is also the spokeswoman for the DEAL project group. Although contracts with the two other major publishers, Elsevier and Springer-Nature, have yet to be concluded, Kellersohn seems optimistic.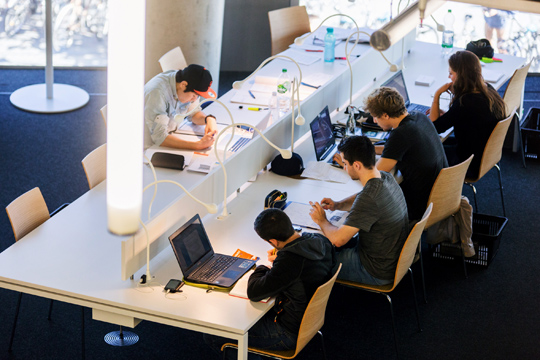 Students and researchers are able to access all of Wiley's journal articles – around 1700 of them – as well as the publisher's archive going back to the year 1997. Photo: Sandra Meyndt
The DEAL project represents around 700 German research and academic institutions. Effective immediately, they will have unlimited and lasting access to all electronic journals published by Wiley. What is more, DEAL members will be able simply to publish their journal articles on an "open access" basis at Wiley without additional charges, making their research findings accessible world-wide on the Internet. Kellersohn describes the contract, which is initially for three years, as the foundation of a pioneering partnership. She says, "Both sides are taking on new roles. The publisher is becoming a service provider for research," emphasizing that Wiley is setting a significant example. Kellersohn adds that the publisher is placing importance on cooperating with academic and research institutions as an equal partner in future. "The negotiations were nevertheless tough," she says, "after all, it was about a great deal of money." Everyone had to make compromises, but DEAL was able to achieve its main negotiating aims.
Ten thousand articles per year
DEAL represents the consolidated interests of research and academic institutions such as universities, the Max-Planck and Fraunhofer Institutes, and national and regional libraries. They now have access to all of the around 1700 Wiley journal articles and the publishing company's archive back to the year 1997. What is more, all main authors from DEAL member institutions are entitled to to publish their articles on an "open access" basis. The simplified legal and financial conditions are clear. Kellersohn says DEAL and Wiley intend to continue promoting this forward-looking form of publication. "It increases the visibility of researchers and their findings worldwide," she says. The open access rule will allow the release of an estimated ten thousand articles per year. "That's a big step in the right direction," Kellersohn points out.
The contract is giving DEAL and Wiley an opportunity to be beacons of exemplary transparency. Starting in mid-February 2019, they are publishing the accord in full detail on the DEAL-Website. That will allow everyone to take a look at the new "Publish & Read" costing model upon which the contract is based. "We carried out the negotiations centrally, but it's not the same for the financing," Kellersohn explains. Every institution needs to make a cost contribution based on a newly developed distribution model. It covers access to the full portfolio of journals and publication costs as well. The contributions also include how many articles an institution would like to publish and in which journals. All the DEAL member institutions will profit from the innovative contractual services. "It's a fair, future-oriented pricing model," Kellersohn concludes.

Further talks underway
The enormous costs of academic journals provided the impetus for the negotiations. After all, nearly all the content is generated by researchers who are publicly financed. Strictly speaking, the journals are merely information platforms – comparable, for example, to social media to some extent. What is more, digital magazines have no printing or distribution costs. Nevertheless, academic and research institutions have up to now had to pay more and more for all the content they wanted to use. Kellersohn says, "Using this business model, the major publishers brought in returns on sales of 40 percent." She adds she hopes Wiley will be just the first major publishing company to engage in innovative cooperation with research and academe. DEAL is currently pursuing similar accords with two more major publishers. Talks with the Elsevier Publishing Co. have been ongoing since 2018. Negotiations with Springer-Nature are running full speed ahead. DEAL spokeswoman Antje Kellersohn says she expects a successful result by mid-2019 at the latest. "Then we'll see how Elsevier reacts," she adds.
Jürgen Schickinger
Press release of the German Rectors' Conference
DEAL

UB Executive Director, Dr. Antje Kellersohn, is the DEAL project group spokeswoman, and a member of the negotiating group and the project steering committee. What is more, UB Freiburg has had a DEAL office for several years. It coordinates and documents the communication surrounding the DEAL project and provides press and public relations services. The office's sponsor is the Alliance of Science Organizations in Germany, which initiated DEAL in order to obtain nationwide licensing agreements for academic and research institutions.

For more information