Jettisoning old knowledge for new
Students of the Social Sciences' Master's program investigate the societal impacts of globalization
Freiburg, Feb 27, 2018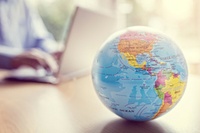 Photo: Brian Jackson / Fotolia
The effects of globalization had long been making themselves felt when the Social Sciences' Master's Program was initiated at the University of Freiburg fifteen years ago. Its approach – sending students out into the world to explore societal change first-hand – was, however, genuinely new. After spending time at universities in South Africa, Argentina, Thailand or India, the students today above all bring back new perspectives to Freiburg. Now a series is to introduce seven further projects in international cooperation.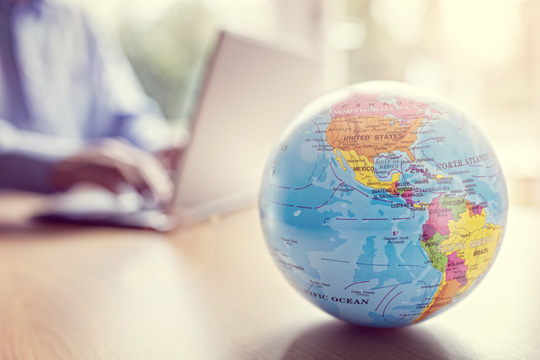 Photo: Brian Jackson / Fotolia
"Our aim is to question a one-dimensional view of globalization. The program's vitality comes from jettisoning things that were learned earlier," says Manuela Boatcă, the sociology professor at the University of Freiburg who heads the two-year Master in Social Sciences Program. Also known as the Global Studies Program, the international, interdisciplinary course of study has 42 places available every summer semester. Students spend their first semester in Freiburg, then move on to Cape Town, South Africa, or Buenos Aires in Argentina. The third semester takes them to New Delhi, India, or Bangkok, Thailand. Their fourth, final semester is spent in Freiburg, where they write their Master's thesis.
Development of inequalities
The Master's course focuses on using social sciences to probe how global, societal change and the globalization process unfold. Boatcă elaborates: "It's done from the perspective of the Southern hemisphere," including the development of inequalities, for example. "We address poverty around the world, but also the position of the super rich, and ask how globalization processes have contributed to this situation," says Boatcă. Post-colonial theories or a range of feminist approaches could be subjects of study, as well as working with international institutions and empirical research methods. In addition to sociology, political science, human geography and ethnology, are also part of the program.
"Regional perspectives in the individual locations also play a key role," says Caroline Janz, the doctor of sociology who directs the Master's program. "The students read a range of theorists and find out that these writings are interpreted differently in India than are in Western Europe." Pierre Bourdieu, for example, developed his theories on the basis of French society. If you want to use them to understand Indian society, the central concepts work, "but you have to abstract from those and see what fits."
The vagaries of globalization
Boatcă says that local experience abroad appears to be key for the students. They experience different academic cultures and campus and city life. "And the students learn to deal with the vagaries of globalization, from the issuing of visas, to security checks at the airport," says Boatcă. A six-week internship between the second and third semesters is also part of the program. The range of opportunities goes from jobs at the United Nations to embassies to international initiatives and art projects.
Janz says that the structure of the Master's program is a big challenge for the students. "From the start we try to foster a sense of cohesion within the group," she adds. Students returning to Freiburg for their fourth semester mentor new arrivals. Just more than a third of the students come from Western Europe, while nearly a fifth come from the Asia-Pacific region and another tenth each from North America, Africa and Latin America. English is the language of instruction at all five participating universities.
After their studies, most graduates work in academe, at international organizations or in development aid, says Janz. "Some, however, go to consulting firms, into the media, or politics, where experience from their preceding Bachelors' plays a role as well," she adds. A good initial degree in the social sciences is a prerequisite for application, as are demonstrated proficiency in English and a letter of personal motivation. Boatcă says there is a good number of applicants, with about 130 students seeking admission to the program each year.
Boatcă emphasizes that the Master's program was already established 15 years ago, so "ahead of implementation of the Bologna reform." The course's global orientation is something special, she goes on, "Back then we were really in the avant-garde – and today the program is still innovative."
Thomas Goebel
Social Sciences Master's Program
The program starts each summer semester.
Applications must be submitted by 30 November.
The course of study is four semesters long.
Students spend the first semester at the University of Freiburg. During the second, they move on to universities in Cape Town, South Africa, or Buenos Aires in Argentina. The third semester takes them to New Delhi, India, or Bangkok, Thailand. In their fourth semester they return to Freiburg, where they write their Master's thesis.

For more information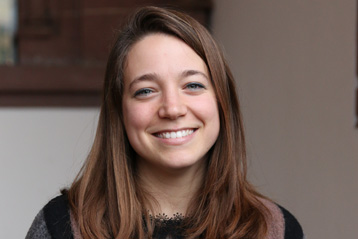 "The Global Studies Program is a unique opportunity to really go beyond your comfort zone and learn how to think out of the box. During these two intensive years I learned how to think critically about everything happening around me. In fact, I think the most valuable aspect of the course is the combination of theory and practice, the balance between book-learning and life experience."
Carmen Cancellari spent her second semester in Cape Town and her third semester in Bangkok.
Photo: Sandra Meyndt
"The Global Studies Program allows me to travel and meet people as a student and a learner. But in the end, the important thing isn't what I learned during these two years, but what I unlearned. After putting yourself in an environment of different cultures and values, you don't think in the same way. This would be the reason I like it."

Gus Chan, spent his second semester in Buenos Aires and his third semester in New Delhi.
Photo: Sandra Meyndt