Double Degree, Two Universities
Laurine Kaul, a pharmacy graduate of the University of Freiburg, is pursuing a joint doctoral program at both the University of Adelaide and the University of Freiburg
Freiburg, Jun 15, 2020
Photo: Thomas Kunz
Editor's note: The photos in this article were taken before social distancing regulations were implemented in response to the coronavirus pandemic.

Five years ago, the University of Freiburg and the University of Adelaide in Australia signed an agreement that allows students to obtain an international doctoral degree. Since then, a handful of medical students have taken advantage of this unique program. Now, students of Pharmacy can also participate. After spending her first year of the program at the University of Adelaide, Laurine Kaul, who graduated with a degree in Pharmacy from the University of Freiburg, has now returned to her alma mater to do research for her second year. When she completes the program, she will have obtained a degree from both universities.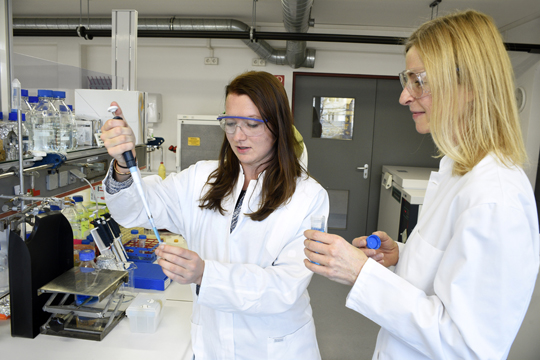 Laurine Kaul (left) joined Regina Süss's lab to research nanoparticles, which are used to deliver drugs to targeted areas in the body. Photo: Thomas Kunz
Laurine Kaul has a French first name, an Australian email address, and German as her mother tongue. She also speaks perfect French and English – all ideal conditions for feeling at home just about anywhere in the world. The 27-year-old was born and raised by German parents in France, where she went to school, meaning she is used to crossing cultural and language borders. After studying Pharmacy at the University of Freiburg and earning her pharmacist's license, she thought to herself, "I need a little time off." So she spent a year traveling around Australia, where she did odd jobs to keep her head above water. She worked as a babysitter, gardener, house painter, renovator, and cleaner, in addition to working as a pharmacist for a few months in both Australia and Germany. During this time of reflection, the idea occurred to her to pursue a doctoral program.

Comprehensive partners

The joint doctoral program seemed to be made just for her and offered her the chance to obtain an international doctoral degree. The agreement for an international doctoral degree program in Medicine was signed by the Universities of Adelaide and Freiburg five years ago and was initiated by the Faculty of Medicine. Since then, it has been expanded to include Chemistry and Pharmacy. The two universities regard each other as comprehensive partners. The University of Freiburg also has a similar agreement in Medicine with the University of Nagoya in Japan. "The partnership is based on a broad collaboration that is intended to cover as many practical areas and departments as possible – from administration, to research and teaching," explains Kathrin Jehle from the University of Freiburg's International Office. An international doctoral degree program in Pharmacy seemed to fit perfectly. It also helped for Kaul that she had already established contact with her future advisor, Prof. Dr. Katharina Richter, through the help of a friend. Richter is originally from Thuringia, Germany, has a doctoral degree in Pharmacy, and does biomedical research at the University of Adelaide, where she is the head of a research lab that develops new treatments for multidrug-resistant bacteria in hospitals. She says that roughly 700,000 people die every year as a result of these superbugs.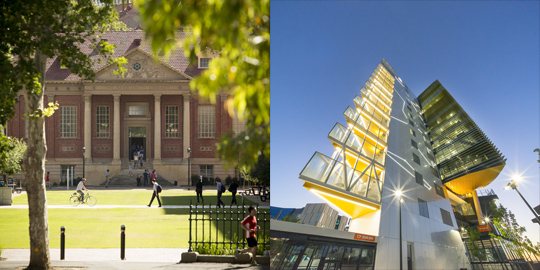 From its traditional campus to the futuristic Health and Medical Sciences Building, the University of Adelaide is one of the University of Freiburg's five comprehensive partners. Photo: University of Adelaide
Medicine in the form of a gel

Kaul decided this research topic was fascinating, and she also wanted to raise more awareness about this serious problem. She began by spending one year at the University of Adelaide conducting experiments on human cells in a search for drugs that would kill these germs without damaging the cells. She says her advisor's "good nose" was a huge help in this.  In the end, she was able to find "two drugs that work well in combination." Although she doesn't want to reveal these just yet, her plan is to use these two drugs to create a medicine in the form of a gel that can be used in surgery – for example, to treat hernias. Surgeons often apply a synthetic mesh in these types of surgeries to stabilize the abdominal wall. However, the implant can also introduce bacteria into the body. For this reason, patients who have undergone this type of surgery are administered antibiotics as a precaution, but this carries its own risks. Weaker patients may not tolerate the side-effects of the antibiotics, germs may prove resistant to antibiotic treatment, or the implants may need to be replaced. Kaul's plan is to prevent germ formation in the first place. The idea is that the gel, which can be absorbed and broken down by the body, is injected into the incision when the mesh is inserted. The gel then acts as a time-release agent that releases the drug over a longer period. But how are the slowly dissolving substances supposed to get into the gel and out again? "I needed something to put them in," she says.

Packing active pharmaceutical ingredients in nanoparticles

This is where the University of Freiburg comes into the picture. Prof. Dr. Regine Süss at the Department of Pharmaceutical Technology and Biopharmacy researches exactly these kinds of technological systems for delivering drugs to targets in the body. The optimal vehicles for transport are so-called nanoparticles: particles that are so tiny, they can only be seen with electron microscopy. Because nanoparticles are hybrids of lipids and polymers that can deliver a drug to a target destination, this makes them the ideal solution for Kaul's project. That is why she joined Süss's lab at the beginning of 2020 for one year, after which she will return to her home university in Adelaide. The University of Adelaide has awarded her a special scholarship that lets her pay for room and board, health insurance, and the high tuition fees in Australia. She says, compared to Australia, researching in German is "much more relaxed, and there's less pressure from competition." She is also excited to try teaching and working with students in the lab, which is something she had never done before in Australia. She is networking in both countries, perfecting her language skills, and is convinced that "this will be great for my professional career." At the end of the three years, she will have a degree that has been issued by both universities.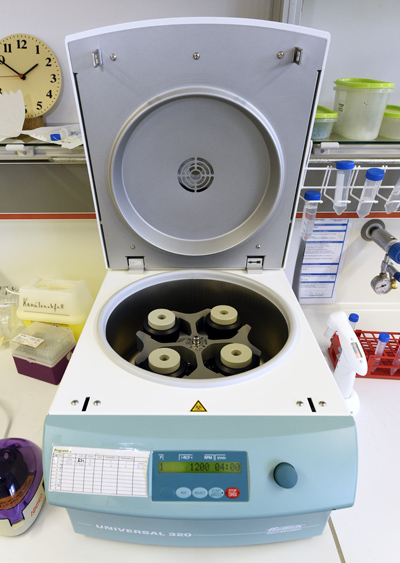 Cells treated with drugs that have been delivered by nanoparticles are processed in a centrifuge for further analysis. Photo: Thomas Kunz

Only a handful of doctoral candidates have completed the joint doctoral program so far, says Jehle. She hopes that there will soon be more students, also from other fields. However, "the research topic has to fit the fields of research at the partner university." Furthermore, each new field of research added to the joint doctoral program means straightening out many details in a contractual agreement. But the International Office can assist with this by providing assistance and qualified advice about possible forms of collaboration with partner universities – also in this time of limited international travel.

Inspiration for the University of Freiburg

Regina Süss also believes this is a "great program" and thinks there should be more exchanges like it. She decided to visit Australia for herself for four weeks and brought home lots of ideas for potentially expanding partnerships in her field beyond the doctoral program. While the Pharmaceutical Technology Department currently focuses primarily on developing personalized cancer treatment, she thinks that using nanotechnology to enhance the fight against bacteria is a very interesting idea, and that ideally the scientific expertise of both labs could complement each other.  

Laurine Kaul is enjoying her research and could imagine continuing after she completes her international doctoral degree. After all, there are many opportunities available to her. "We'll see where the journey takes me," she says.

Anita Rüffer

Joint Doctoral Programs

Comprehensive Partners of the University of Freiburg