Discussing the society of the future
Bachelor's students of any subject may enroll for the Eucor Summer School 2017
Freiburg, Mar 08, 2017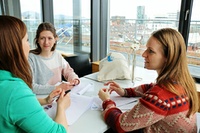 Photo: Max Orlich
The University of Basel is holding the Eucor Summer School 20 – 26 August 2017 for Eucor – The European Campus.  The theme is Wirtschaft – Wissenschaft – Gesellschaft: Wie gestalten wir unsere Zukunft?/ Economy – Knowledge – Society: How to shape our future? Bachelor's students at the universities of Freiburg, Strasbourg, Basel, Mulhouse/Haute-Alsace and the Karlsruhe Institute of Technology (KIT) may participate in the program and discuss the society of the future in an intercultural environment.
"I am delighted that we are able to hold a Summer School in 2017 which is open to all Bachelor's degree students in any discipline at the Eurocor Universities," says Professor Hans-Jochen Schiewer, President of Eucor – The European Campus and Rector at the University of Freiburg. "Students from different countries and subjects will have the opportunity to focus on current social issues and visions for Europe's future. This Summer School is fully in keeping with the tradition of closer collaboration and breaking down barriers to knowledge."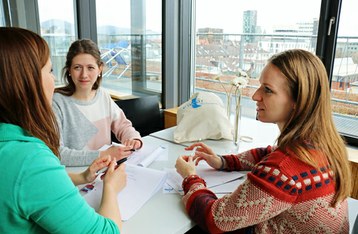 Young students discuss ethical questions in times of digitalization during the Eucor Summer School 2017. Photo: Max Orlich
The 2017 Summer School will be held at Studienhaus Wiesneck near Freiburg and will focus on issues under the headings "Organization and Culture," "Digital Transformation," and "Ethics and Values." "When it comes to challenges like globalization and digital transformation, dividing lines between the subjects can get in the way," explains Professor Maarten Hoenen, the Summer School Organizer and Vice-President of Eucor at the University of Basel. That is why a conscious decision was made in favor of an interdisciplinary program with representatives from academia, culture, politics, and economics. "It is easier to hone a critical intellect in an intercultural and multilingual context," Hoenen says, "That is a skill we aim to strengthen."
The program will be supplemented by introductory courses in Chinese physical movement techniques. Participants will be able to try out martial arts such as kung fu, as well as relaxation techniques like tai chi and qi gong.  The free-time program will be rounded off with an evening hike, dinner, and evening talks around the fire.
The Summer School is open to fourth-semester or higher Bachelor's degree students of all disciplines at the five Eucor Universities. Students pay 200 euros for the events, accommodation, and food. They may also obtain 2 ECTS credit points. The application period starts March 1. Applications close on April 30, 2017.

Nathalie Schnabel

Information and applications