University Publishes Expert Report on Armin Klümper
All publishable expert reports on Freiburg Sports Medicine are now published
Freiburg, Jun 22, 2017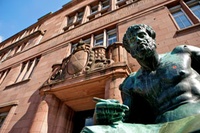 Photo: Peter Mesenholl
The university has published the expert report entitled "Armin Klümper and the Doping Problem in the Federal Republic of Germany: Structural Conditions for Illegitimate Manipulations, Political Support, and Institutional Failure" on its website, www.uni-freiburg.de/universitaet/einzelgutachten. The authors are the sports scientist Dr. Andreas Singler and the sports pedagogue Prof. Dr. Gerhard Treutlein.
The university has therefore now published all expert reports by former members of the "Freiburg Sports Medicine Evaluation Commission" that were completed by the authors following the external legal review. "The University of Freiburg has made all results former commission members have submitted in legally publishable form available to the public," stresses Rector Prof. Dr. Hans-Jochen Schiewer. "We have thus kept our word, shown our great determination to resolve this issue, and made an essential contribution to investigating the history of sports medicine in Freiburg and the Federal Republic of Germany."
The report provides the first comprehensive documentation of Prof. Dr. Armin Klümper's professional activity. It confirms – as reported in the press – that Armin Klümper was actively involved in the doping of athletes. According to the report, Klümper prescribed and administered substances suitable for doping on a grand scale for decades. He was thus jointly responsible for world records, medals, and many top performances that would generally not have been conceivable without doping against the backdrop of typical international performances of the time. These performances in turn helped him to acquire resources from government officials and sports authorities.
In the meantime, the District Public Prosecutor's Office in Freiburg has announced that it has dropped the charges brought by expert report author Andreas Singler against the Rector of the University of Freiburg, thus affirming the University of Freiburg's position that it was right to publish the expert reports resulting from the evaluation commission's work. As the Public Prosecutor's Office writes in the statement justifying its decision, it assumes that "the evaluation commission was founded with the purpose of investigating the history of doping at the Freiburg sports medicine department and that the University of Freiburg also intended to publish the commission's final report for this purpose. Since the commission did not write a final report, the individual expert reports took its place" – and the university is therefore authorized to publish them.