Petersen, Gerhartz, Lenz
The sixth volume of the Deutsche Familiennamenatlas (German Surname Atlas) focuses on surnames derived from given names
Freiburg, Jul 06, 2017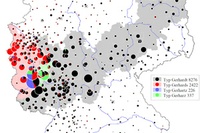 Source: Deutscher Familiennamenatlas
The sixth volume of the Deutsche Familiennamenatlas (DFA) has now been published. It includes 49 linguistic maps that document surnames derived from given names, for example a person's father or a close relative. "This volume is the first of its kind to systematically and comprehensively demonstrate the geographical relationship between the medieval inventory of given names and the surnames within a state," the project member and volume author Dr. Kathrin Dräger explained. Family names conserve the historic wealth of first names and are the only way to reconstruct how first names were used in more or less official records as well as in oral language – for example, "Wörz" for "Werner," and "Jauss" for "Jodocus." "The new book is an excellent resource for researching not only first and last names, but also cultural history, especially the history of spoken language, the worship of saints in the Middle Ages, and the appropriation of dynastic names," Dräger said.
Volume 6 is the final installment of the DFA series. The first three volumes focus on such grammatical phenomena as vowel distribution (Meier, Meyer, Maier, Mayer), consonant distribution (Schmidt, Schmitt, Schmid, Schmitz), and morphology (Linde, Lindner, Lindemann). The next three volumes concentrate on the meaning of surnames and why they were chosen: Volume 4 maps last names according to their origin and where people lived, while volume 5 focuses on surnames that are derived from a particular profession or personal characteristic. Volume 7 will also come out this year and will include an index and bibliography
The Atlas was a collaborative effort between Prof. Dr. Konrad Kunze at the University of Freiburg and Prof. Dr. Damaris Nübling at the University of Mainz. The German Research Council funded the project from 2005 to 2015.
Publication:
Kunze, Konrad and Damaris Nübling, eds. Deutscher Familiennamenatlas. Volume 6, Familiennamen aus Rufnamen, by Kathrin Dräger. Berlin: De Gruyter, 2017.
For more information, please visit


Contact:
Dr. Kathrin Dräger
Digital Dictionary of Surnames in Germany (DFD)
Academy of Sciences and Literature in Mainz
Phone: +49 (0)6131 / 577-254
E-Mail: kathrin.draeger@adwmainz.de
Prof. Dr. Konrad Kunze
Department of German
University of Freiburg
Phone: +49 (0)761 - 203-3260
E-Mail: konrad.kunze@germanistik.uni-freiburg.de