Nearly a million Euros for projects at the European Campus
The initial funding program "Seed Money" is Eucor's first own funding instrument
Freiburg, Jul 03, 2017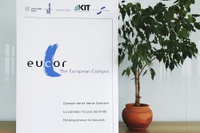 Photo: Sandra Meyndt
With "Seed Money" Eucor – The European Campus has created its very first own significant funding instrument and will award 300,000 Euros annually from 2018 to 2020. The goal is to finance new cross-border projects that foster the development of Eucor – The European Campus and its scientific network. Two lines of funding are planned: "Research and Innovation" and "Teaching". Each year between five and ten projects will receive a maximum of 60,000 Euros each.
"We want to specifically fund bottom-up initiatives and leverage the innovation potential at the European Campus even more," says Prof. Dr. Hans-Jochen Schiewer, president of Eucor – The European Campus and rector at the University of Freiburg. "I am very pleased that the Eucor confederation has made additional resources available for funding projects at the various European Campus universities. The initial funding will help support the emergence of new cross-border course offerings and research projects."
Established university instructors as well as researchers at the member universities from Eucor – The European Campus are eligible to apply. At least two universities from two different countries must be involved in the project. The maximum funding time period is 18 months. The idea is for projects in the category "Research and Innovation" to receive subsequent funding from national or European institutions thereafter.
Project selection for the first financing round will occur starting in the fall 2017. The financing will begin January 1, 2018. Online applications are now being accepted via the Eucor Website:
www.eucor-uni.org/en/seed-money
Background Information on Eucor – The European Campus
The European Grouping of Territorial Cooperation (EGTC) Eucor – The European Campus evolved in the course of a longstanding partnership between the universities on the Upper Rhine. In December 2015 the five member universities – the University of Basel, the University of Freiburg, the University of Upper Alsace, the Karlsruhe Institute of Technology, and the University of Strasbourg – signed the founding documents to give the international research and teaching alliance its own legal personality. The aim of the alliance is to form a cross-border science and research area with an international reach, pooling the competence and potential of 15,000 researchers, 15 doctoral candidates, and 115,000 students.
Contact:
Coordination Office, Eucor – The European Campus EVTZ:
E-Mail: seed-money@eucor-uni.org